Garden
40% of all respondents declared possession of a garden. Most often village residents are garden owners (67%). As far as city inhabitants are concerned, a tendency is noticeable - the bigger the city, the smaller percentage of respondents having a garden (cities below 20 thousand inhabitants - 34%, from 20 to 99 thousand - 29%, from 100 to 500 thousand - 19%, over 500 thousand - 16%). It is worth noting that garden owners are more often people with children under 18 years of age (50%) than respondents who do not have children at that age (36%).
Balcony/terrace with planted flowers, herbs, other plants
38% of respondents have a "green" balcony/terrace in their household. Taking into account the place of residence of the respondents, such balconies/terraces are the most popular among inhabitants of cities from 100 to 500 thousand inhabitants (47%), and the least popular among people living in villages (33%). There is no significant difference in the percentage of owners of "green" balconies/terraces among people with and without children under 18 years old (36% and 39%, respectively).
Garden plot
Respondents are the owners of their garden plot least frequently (33%). Taking into account the place of residence - most often the garden plot is owned by inhabitants of villages (40%). Among urban residents, the percentage of garden plot owners is as follows: below 20 thousand people - 34%, from 20 to 99 thousand - 32%, from 100 to 500 thousand - 27%, over 500 thousand – 19%. Among people with children under 18, 41% of the respondents have their garden plot, while those who do not have children at that age are significantly less frequent owners of such a plot (29%).
Summing up the results of the survey - more than three-quarters of the respondents (77%) have at least one of the "green" places listed in the survey. This shows that it is very popular among Poles to spend time in their own, plant shelters - in a space that they can shape and decorate themselves.
Methodological note
The survey conducted from 1-5 May 2020 using CAWI method. The national sample of N=1086 adults. The structure of the sample chosen according to the representation in the population for gender, age and size of the place of residence. 
INDAGO Research Agency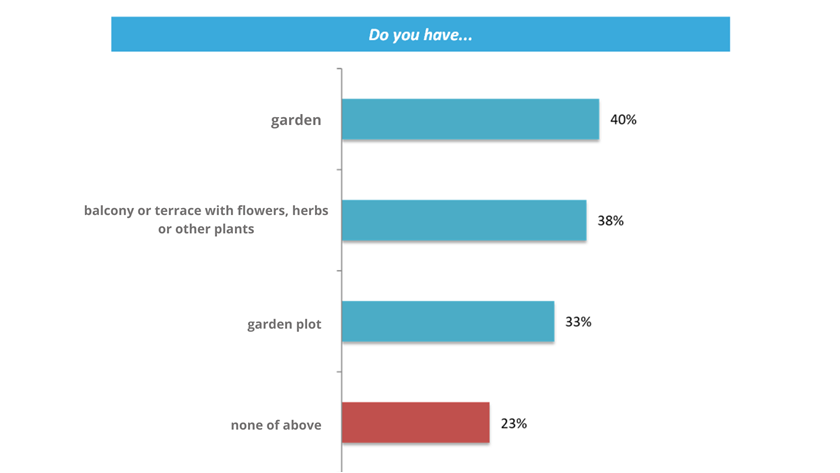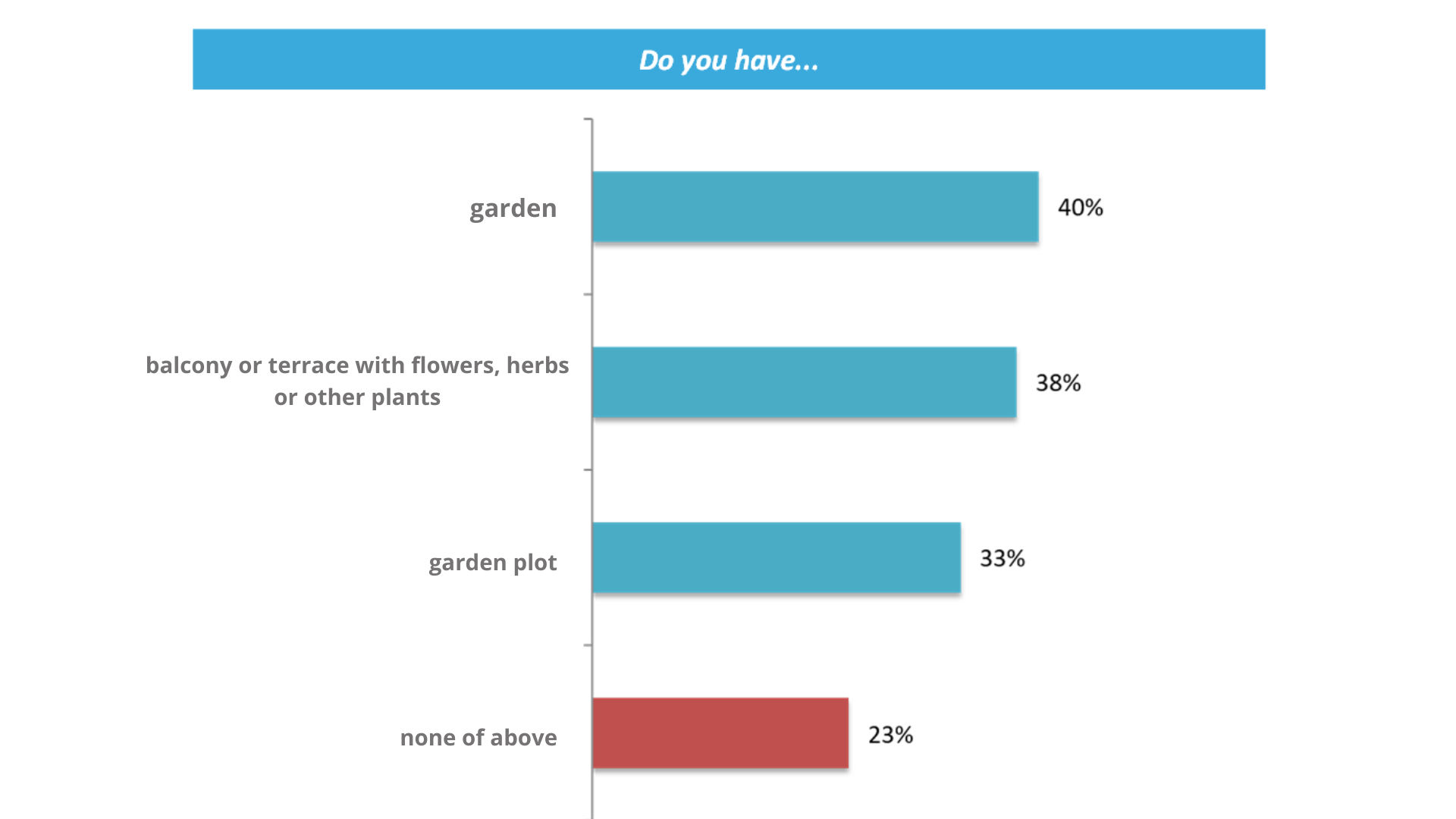 (the percentages do not add up to 100 since it was possible to indicate more than one response)
The appearance of the coronavirus epidemic has very broad consequences, including economic effects. All industries ( among others tourism, clothing, footwear, catering, services) - are affected by the current situation. 
However, recovery can be seen in e.g. the horticultural sector (in broad terms) and the construction (renovation) industry, as exemplified by data from the Ceneo comparison engine, concerning the increase in interest in this category (construction or decorative materials) by over 60%.* It is worth noting that for many people, horticulture in the form of home gardens, housing estate gardens or balconies, has become an ideal remedy for numerous restrictions in the time of the pandemic. 
Poles forced by the situation to stay at home, try to enjoy fresh air and sunshine in their garden or on the balcony. Moreover, contact with plants and gardening works such as mowing grass or cultivating flowerbeds - enhance the mood, help maintain optimism and physical activity. 
Home gardens or Family Allotment Gardens have been experiencing some kind of renaissance, as a safe, green oasis during the coronavirus pandemic. Social isolation and inability to travel have made us spend more time in home gardens, on balconies or terraces.
Many people decide to do gardening shopping to take care of these green places and improve or change their image. One can argue that it has become one of the favourite activities of Poles in the era of the pandemic, which is confirmed by the huge popularity of the 'Home and Garden' category, among others on the allegro.pl portal. Items for garden decoration and gardening accessories such as plants (31.5 per minute), gardening tools and garden fertilizers (13 per minute) or light garlands (12 per minute) attract particular interest.** It is also visible in the Google Trends analysis, where the slogans related to gardening/balcony/vegetable garden/green garden reached an increase of more than 60 percentage points, compared to April 2019 to April this year (and looking at the period before the pandemic until now - this is an increase of over 70 percentage points). The peak of interest in these categories occurred in the period from 26 April to 2 May 2020, although increased popularity was already observed in March, at the beginning of the epidemic (15-21 March).***
The pandemic and the restrictions associated with it have triggered many changes in the horticultural industry. On the one hand, many positive aspects can be seen but on the other hand, the industry has been affected by a serious crisis. This is particularly true for florists and ornamental plant growers (both cultivated for cut flowers - tulips and potted plants - such as primroses, pansies, flowerbed and balcony plants). Lack of possibility of direct sale, the necessity of destroying the current production, disposal of plants and maintaining employees result in a decline in profits and at the same time, lack of financial liquidity. This, in turn, translates into a threat to investments in 2021 and an inability to pay off the current loans which financed this year's production (they were to be paid off from sales profits). 
Vegetable growers are in a slightly better position (fortunately for gardeners, wholesale markets, supermarkets and smaller grocery stores were operating) but both groups have many concerns about the future This is because the market has now shrunk due to a smaller supply of goods - among others, due to the closure of florists, restaurants, hotels, cancellations of events (weddings, communions and other family celebrations). 
Based on the observations, several consequences of the current situation can be indicated from the general perspective (the whole industry) as well as individual participants. Among positive issues we can find:
Along-term change in many people's attitudes - more time to reflect on the pace of life and relationships has also influenced purchasing behaviour and attitudes to take care of yourself. Poles began to pay more attention to their health, which manifests itself in preparing meals on their own, baking bread or checking new interesting recipes. When shopping, however, we started to pay attention to the quality of products, the country of origin of vegetables and fruit, more often choosing Polish goods.
Solidarity of Poles towards Polish local entrepreneurs and brands. Advertisements on local portals and social media (Facebook) - e.g. concerning the purchase of tulips or lettuce - generate a strong response, providing an opportunity to maintain the businesses of farmers and gardeners. Consumers' awareness has increased - this year the willingness to support local entrepreneurs is more visible than in previous years. The percentage of people for whom information about the country of origin becomes a key criterion in product selection has increased from 35% to 61%****. This shows that in times of crisis people support each other more than usual.
Revival on sales platforms and in social networks in the category of plants. The lack of possibility of direct sales made it necessary to look for other sales methods, e.g. in the form of Facebook profiles which are an ideal means of contact with plant recipients. The producers can place photos there on an ongoing basis and encourage buyers to purchase their products.
Digitisation of sales - transfer of sales of cuttings, seeds etc. to the Internet. Some sellers were forced for the first time (although many companies have a long tradition) to create shops or develop advertisements on OLX type portals. In many cases, the immediate environment was involved in this process - including e.g. children of producers.
The emergence of additional services - customers can order plants by phone or instant messengers and pick up the goods at the farm or choose their home delivery (to the address of residence, subject to safety rules). The popularity of the latter option relates to flowers, potted plants, cuttings or vegetables. 
Launching sales of plants (early spring and "flowerbed" plants) and vegetables, maintaining all precautions directly on the farms and at producers' premises - a novelty for some entrepreneurs, despite their long-term market presence.
The popularity of home gardens, housing estate gardens and "green" balconies/terraces - affected the emergence of dedicated groups and online training initiatives, e.g. showing how to create a garden from the scratch or how to take care of herbs on the balcony.
Numerous actions popularising ornamental plants, which contributes to stimulating sales (e.g. visible on Facebook, such as #poczujwiosne, #kupujekwiaty, #greenon, #wlaczzielen, #zostańwdomu, #greenislife #zielentozycie #flowerpower #plantslovers).
The possibility of ordering almost all products in online shops - some producers have significantly expanded their assortment in the e-commerce channel (availability of mail-order sales of ornamental plants, garden plants, seeds and cuttings of perennials, tree and shrub cuttings).
 Problematic issues:
Cancellation of consecutive industry events - fairs (both foreign and domestic), exhibitions, conferences.
Change in purchasing behaviour - limiting purchases to the required minimum (food, medicine, hygiene measures), especially in the first period of the pandemic. The decline in the demand for flowers as ornamental plants is unfortunately not essential goods, which resulted in the suspension or even cancellation of the supply of ornamental plants to retail chains.
The decline in demand for flowers has resulted in a slump in the supply of imported ornamental plants.
Reduction of prices (especially tulips) when selling directly from the producer.
Less customer traffic in stationery stores - an increase in online shopping. 
Inability to sell to existing customers from abroad, e.g. from the Czech Republic and Slovakia on the wholesale market and a general restriction of trade on the wholesale market.
Lack of possibility to sell through periodical closure of flower markets, wholesale markets, small bazaars, markets, florists - resulted in the necessity to look for other sales channels.
Leaving the "home and garden" type of retail chains open at the same time - as opposed to closing markets, gardening centres etc.
Limitation or suspension of orders for balcony and flowerbed plants, which were intended for so-called green areas in cities or other public places.
The short shelf life of flowers (e.g. tulips, daffodils) forces producers to incur costs associated with their disposal.
Lack of workers, often due to additional care allowance and lack of seasonal workers, e.g. from Ukraine - difficulty in carrying out internet orders, lack of people to work in greenhouses or the upcoming strawberry harvest (similar to the situation with asparagus in Germany). On the other hand, an opportunity appeared to take over employees from other industries (e.g. catering).
Loss of job for some seasonal workers for whose wages there was a shortage of money.
Higher EURO exchange rate which has contributed to higher prices of fertilisers and equipment. 
Delays in deliveries (e.g. phosphate fertilisers and plant protection products, seeds) due to the impeded flow of goods across the border and because of the reduced number of workers in suppliers' warehouses. 
Despite numerous negative aspects, the currently noticeable trend, visible, among others, in the barometer of Poles' moods, is the warming of consumer moods as a result of easing restrictions. So one can hope that "It will be beautiful again, it will be normal again..."
Footnotes:
*https://www.rp.pl/Biznes/304019872-Epidemia-to-swietny-czas-na-remont.html
**https://handelextra.pl/artykuly/237042,allegro-zabiera-glos-w-sprawie-programu-darmowych-dostaw
***https://trends.google.com/trends/explore?geo=PL=ogródek warzywny
****https://www.pap.pl/sites/default/files/202004/PDF.pdf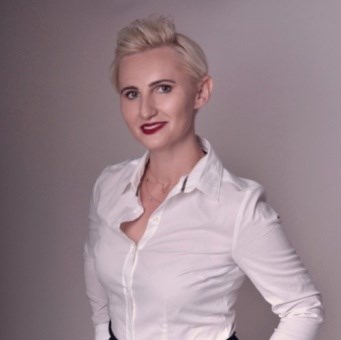 Aleksandra Osip-Krystek
Director of Qualitative Research
INDAGO Research Agency
contact: a.osip@indago.pl, 530 450 800
She has been dealing with surveys since 2000. While working in various research agencies, she carried out many projects, mainly qualitative. Apart from moderating focus groups and conducting individual in-depth interviews, she specializes in projection techniques, ethnographic research and mystery shopping (cyclical projects implemented across Poland). Privately, a happy wife and mother in love with her children, a fan of greenery and outdoor activities.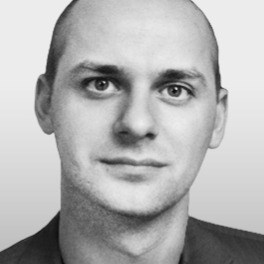 Radosław Olejniczak,
Director of Quantitative Research
INDAGO Research Agency
contact: r.olejniczak@indago.pl, 530 450 801
A graduate of sociology at the Adam Mickiewicz University in Poznań. Associated with research since 1999. While working for international research agencies and smaller market research companies, he implemented several hundred projects. Author of a number of reports and analyses related to the FMCG market published in a trade journal. He specializes in topics related to surveys on customer satisfaction and loyalty. Privately, a happy husband and father, a fan of vegetarian cuisine, jogging and Lech Poznań.